This article regards Prince Henry of Equitaine, not to be confused with King Henry of Equitaine.
Prince Henry or Henry Lionhelm was a prince of Equitaine and heir to the throne.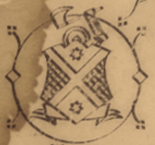 Henry was born in 902 A.S. as the first child Charles of Equitaine and Lyuba of Volskaya. [1]
His brother Luis was born in 918 A.S. and in 923 A.S., one year after his death, his sister Mathilde was born from a different mother. [1]
Henry was presumably heir to the throne but since he died before his father the throne went to Henry's brother Luis.

King Henry of Equitaine, son of his brother Luis, would have been Henry Lionhelm's nephew. [1]
Henry was killed in 922 A.S. [1]. An account by Thomas the Bard says he was slain in duel with the Trewi Lord of Yshwythal, after having embarked into Wyscan to hunt the Forest King. [2]
↑ Mathys Dufour (956 A.S.) Tales of the Fey - Tome 1: Beneath the Boughs, an account by Thomas the Bard (Sylvan Elf armybook)